Continuing this series of quick blog posts to share some of the inspiration, development, and meaning behind choreographies that will be presented in Luz...

Title: No Tiene Cuna 
(Nana) 

This piece was choreographed by Fanny Ara and is set to the music of Miguel Poveda's "Nana de los Rosales," a flamenco lullaby.

I first learned this piece from Fanny in a workshop she gave in 2013 in a studio in Phoenix, AZ. As we learned the material, Fanny explained that she was inspired to create this piece right after her close friend lost a child to miscarriage. Beyond the beauty of the music and the movement, the inspiration of this piece really touched me and the others in the studio that day.

About a year later, when I first talked to Fanny about working together on this project to honor mothers, I knew I'd ask if she'd allow me to present this piece. It was a blessing to hear her enthusiasm. Though the piece reflects despair, tragedy, and loss, it also speaks to the beauty of motherhood in its various experiences. It is probably my favorite choreography in Luz because though I've never felt this particular kind of pain, I embrace the idea that even if a child is in the womb for days, weeks, or months, then gone, a mother remains a mother forever.

One thing I've learned in the process of creating Luz is that we as mothers and artists can bear each others burdens. There is a phenomenal tie between women who share in each other's grief and support each other. I'm so grateful for the women in my life who have come along side me, I'm grateful for the moments I've had the opportunity to come along side them, and of course I'm so very thankful for my friend, Fanny, for making Luz with me.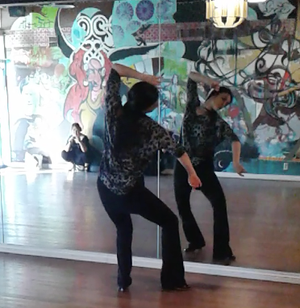 Workshop with Fanny Ana mounting choreography to Nana de los Rosales, 2013.