This is a final entry in a series of quick blog posts to share some of the inspiration, development, and meaning behind choreographies that will be presented in Luz...

Title: Sangre 
(Solea)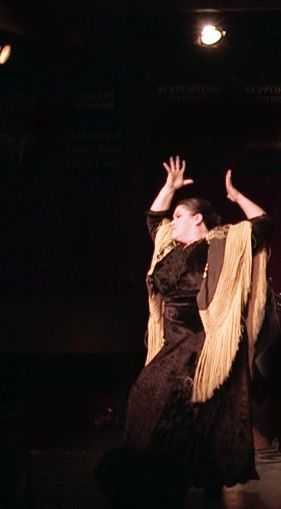 Solea, the "mother" of flamenco palos, will close the show. Fanny Ara and I have collaborated on the choreography for this piece that will include manton work. It will be the most traditional piece in Luz, closing the evening with the purest flamenco sounds of the concert.

I've thought about how flamenco shows are traditionally presented and how Solea is almost always the final palo in flamenco performances around the globe. Keeping to this tradition is appropriate for Luz because it honors all of the flamencas who have helped establish this tradition--the women who have defined what it means to be flamenco. Many of us who practice this art form do it because of the women (and mothers) we've watched on the stage and screen perform pieces like the solea. The most important influences in my flamenco training are also mothers: Juana Amaya, Matilde Coral, Pastora Galvan, Eva la Yerbabuena, Adela Compallo, La Farruca, Mercedes Amaya, and Manuela Carrasco to name just a few. The art work from these woman has help shape me since I was fifteen years old. They are my flamenco all-stars, and my inspiration. 

I'm fortunate to participate in an art form that goes hand in hand with motherhood, one that values family, and one that not only acknowledges the beauty of flamenco matriarchs, but celebrates them faithfully. This is why flamenco is such a perfect medium for honoring mothers who are artists. This is why flamenco is perfect for Luz.

Sangre is the working title of this piece. I've chosen it because like solea, the blood is an image that is powerful, brutal, and generative. It represents the mysteries of genealogy, the substance that binds us, and the foundation of creation. The profound honor of motherhood is expressed in our blood. We don't always appreciate it, but it is always there, just beneath our skin, allowing survival and potential for creation. From it we can draw hope and renewal.


I hope this series of posts on the choreography of Luz has shed some light on why this project is so personal and so important! And of course, I hope you can join me on December 2nd and 3rd for Luz in Arizona!